Our Best Guide To Cleaning Wooden Furniture After a Flood
An unexpected flood can ruin your home belongings such as your beloved wooden drawer or dresser, you might be wondering if you could restore them after water damage or if they will have to be tossed in the trash.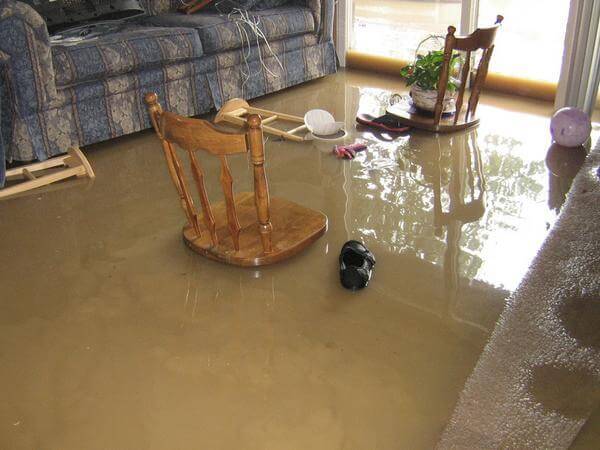 Wood furniture can become stained with white spots or mould after a flood, you may also find your wooden furniture has become cracked or swollen, to clean this wet furniture you will have to let it dry first and then try to clean it with olive oil, bleach or toothpaste.
Don't panic if your wooden furniture is water damaged, we've got you covered with our guide below which will take you through the steps for drying your wet furniture after a flood then how to remove any stubborn water stains on your solid wood furniture, we've also thrown in a few other tips for restoring other types of furniture. 
The Best Steps For Drying Out Wood Wet Furniture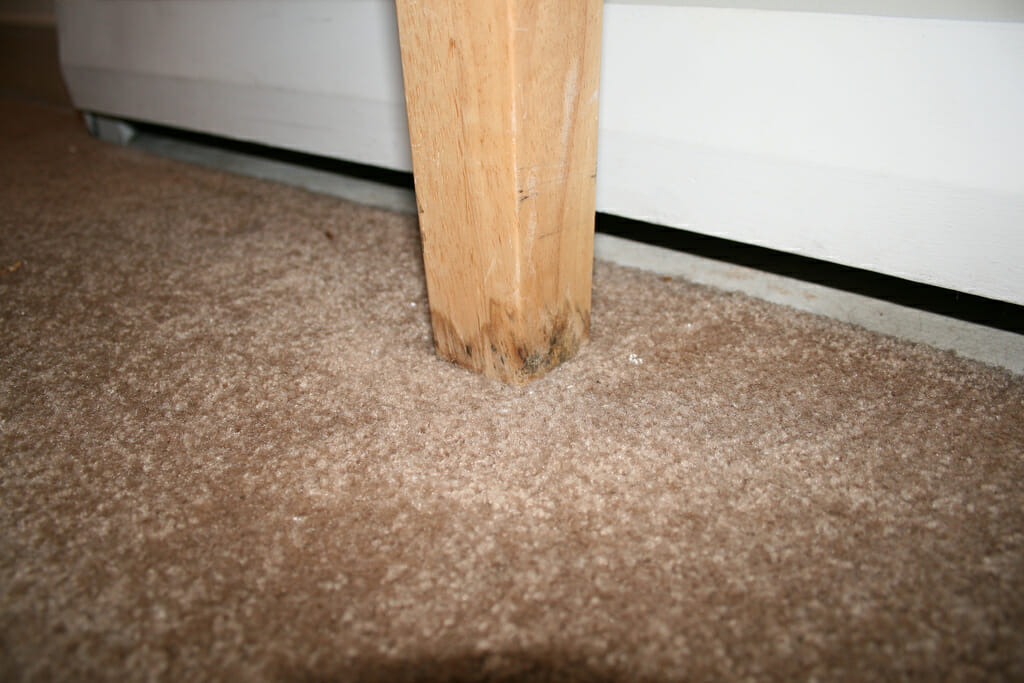 Before you can get into the cleaning process on your wooden type of furniture, you first need to dry the wood out so you can get an idea of the extent of the damage. 
Step one – To begin start by drying your furniture pieces out, start with a cloth to wipe off any excess water, also remove dirt and any debris at this stage to restore the water-soaked furniture.
Step two – Place your valuable furniture in a dry environment, this should be temperature controlled to avoid mould and mildew growing on the solid furniture. De-humidifiers and fans can help at this stage to dry the furniture out.
Step three – Once dry clean the furniture again with a cloth and place it outside to deodorize and dry further, do not leave it in direct sunlight.
How To Get Rid Of Water Marks On Wooden Furniture 
If you have dried your solid furniture only to find that it is full of marks, white marks and mildew then you might assume your wooden type of furniture is entirely damaged, but with some tips and tricks, you can get rid of these stains following our methods below. 
Use a dry iron – Put a towel on top of your wood furniture and with your dry iron a low setting use the iron to dry out any excess moisture inside of the wood furniture.
Mayonnaise – Mayonnaise could help to remove stains from your furniture, simply leave some on overnight then clean off with a rag.
Toothpaste – A toothpaste and baking soda mix might work to take off marks on furniture dry, leave the mix on the hardwood furniture for a few minutes then remove.
Oil and vinegar – To fix furniture of moisture marks use some oil and vinegar with some steel wire, rub gently on the stain then put wax on top of the wood furniture dry.
Bleach solution – A mix of bleach and water can help to get rid of marks as well as mold damage on wood, leave on then wipe off after a few minutes for mold removal.
Tips For Cleaning Other Types Of Furniture After a Flood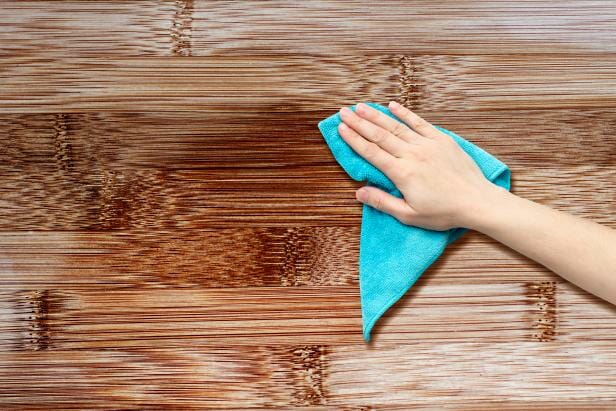 If you are in the furniture restoration process for your wooden pieces of furniture, you might be wondering about how to fix water damage on your laminated furniture, leather furniture or upholstered furniture. 
We've listed a few other tips for cleaning different types of furniture after a flood below.
Leather furniture – Leather furniture is much harder to dry out in comparison to wooden furniture since it can shrink when it is exposed to heat. This heavy furniture can also attract mould as it dries so needs to be disinfected.
Upholstered furniture – Upholstered fabric needs to be sanitised and cleaned but luckily can be saved after water damage if it dries out, the frame however might break inside.
Composite furniture – Laminated and composite furniture after water damage is very hard to repair, in most cases it will have to be thrown away since it will break down once the water has got inside.  
Frequently Asked Questions About Cleaning Wooden Furniture After a Flood 
How do I restore wood grain after water damage? 
After using baking soda and water you can use a wood stain close to the original colour of the wood to fix the water damage and try and restore the grain of the wood.
Can I restore particleboard furniture after flood damage? 
Particle board furniture will more than often have to be thrown away after water damage since it's not durable enough to withstand the water.
How do I fix mouldy upholstered furniture after flooding? 
Upholstered furniture can be hard to sanitise and remove mould from, the best tips we have are to air the fabric out or take it to a professional cleaning surface.
Can wooden furniture grow mould after water damage?
If your wood furniture has severe water damage it could indeed grow mold, to remove mold you will have to try to kill it with a bleach solution.
First of all vacuum the level surface of mold from the wood then use a bleach solution to kill the mold, after applying place the wooden furniture in direct sunlight, you might have to restain your wood after doing this.
Last Words
Overall, wooden furniture needs to be dried out after a flood before it can be cleaned, to clean it you need to use the methods we listed above such as baking soda and toothpaste, olive oil and mayonnaise for cleaning, these solutions we will have to be left on for a few minutes for them to work. 
For other types of furniture, they may need to be sanitised or thrown away if they are laminate furniture for example.