If you have a patch of your garden which is going to waste anyway, why not build your gazebo? All it takes is a few materials.. primarily; pallets! ..and you don't need to be a DIY expert either. 
To build a gazebo in your garden with pallets you will need some extra lumber posts for support as well as shingles and a saw. You will also need to consider where you source all your pallets from, this could be for free or you might have to buy them in bulk. 
We have put together a short guide below which will take you through the process of building your gazebo with pallets below.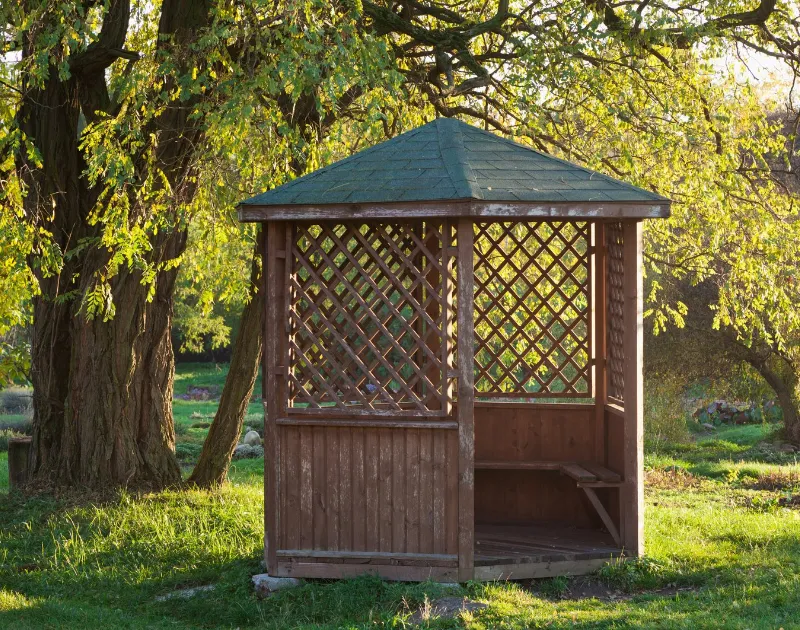 Our Guide To Building a Pallet Garden Gazebo
Building a gazebo in your garden doesn't have to be hard, we will discuss how to make your own square gazebo in your garden with wood pallets below, which shouldn't take you more than a day to assemble. 
Tools Needed
Wood pallets. 
100-inch lumber x 4 for the supporting posts. 
144-inch lumber x 4 for the joists. 
Galvanised screws. 
Tar paper. 
Shingles for the roof.
Circular saw. 
Utility knife. 
Electric screwdriver.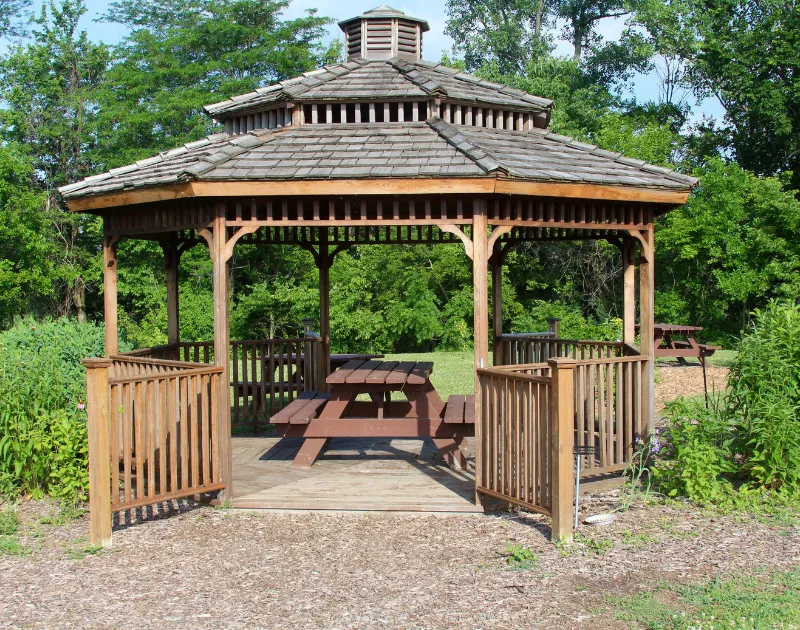 Step By Step Guide To Your Pallet Garden Gazebo
Step one – First of all choose the right location for your gazebo, this should be away from direct sunlight, on even ground for the wood pallets to sit properly and with a nice view. Measure the outdoor area first to check if your DIY pallet gazebo will fit. 
Step two – Now it's time to source your pallet slats, you can find these at most garden centres or at a pallet shelter where they have recycled wood pallet options, you might get these for free or you might have to pay for them.
Step three – Once you have your pallet wood you can start to build the square pallet wood surfaces for the gazebo as the base, make sure the sides of the square are smaller than the rim joints you have then screw the pallet slats together once you are satisfied with the shape.
Step four – Now dig four holes on each side of the pallet garden gazebo base and put your supporting posts in them, fill each hole with concrete for stability. Allow them to dry for at least 12 hours or so.
Step five – Taking your leftover pallet you can now break them apart and start to make joists, once you have them use screws to attach them to your deck.
Step six – Measure on side of your wood pallet deck and cut the beams to the size, make sure your rim joints are fixed on top of your support posts using the screws. Nails the planks leftover from your wooden pallet boards to the beams making sure there are no gaps. 
Step seven – Cover your complete pallet roof with tar paper and shingling.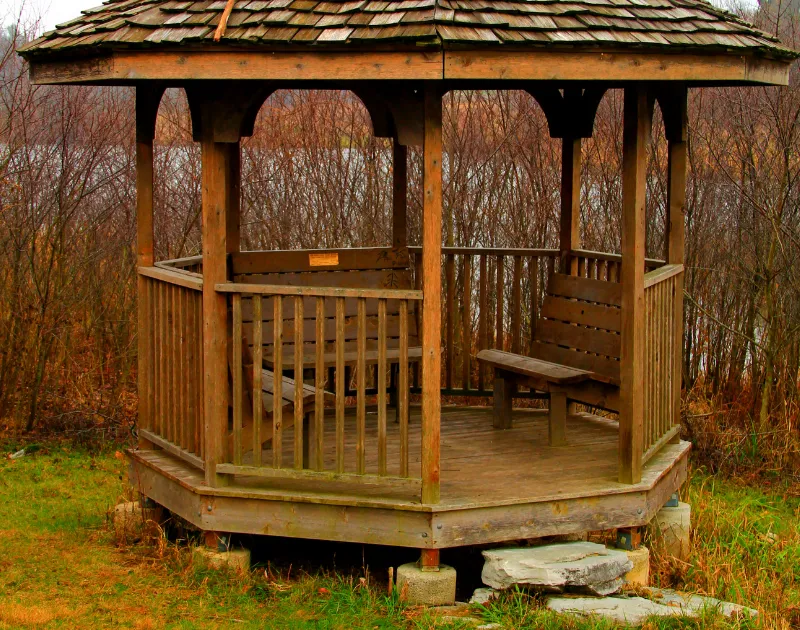 Final Words
Overall, a DIY pallet gazebo design is fun and easy to build and can make a great feature point for your garden, you can use your leftover pallets for DIY pallet ideas too and even make pallet furniture for your home. 
Remember you can make the gazebo waterproof by using a sealant if you want and you can even stain the upcycled wood pallet to a different colour if you want.
Happy building!