Our Guide To Choosing Screws For Your DIY Pallet Project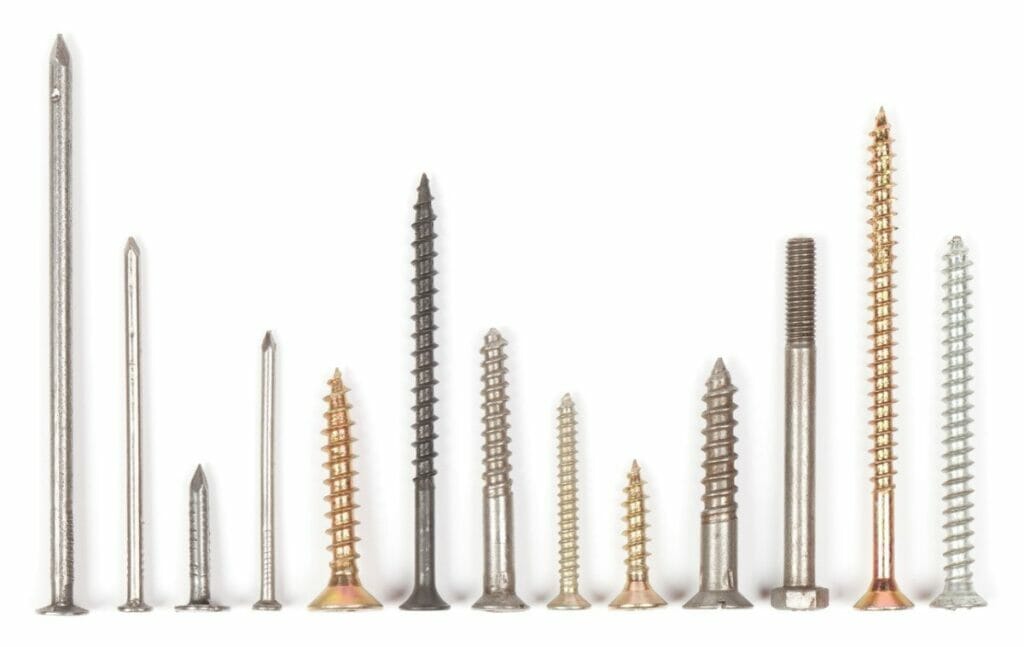 If you are starting to DIY some pallet furniture at home, you might be wondering what the best type of screws is to use for a durable finish in your work. 
Pallet furniture should be made with heavy-duty screws, these types of screws should be 1.5 times the thickness of the pallets that you are trying to screw, on average you will also be using screws that are around 4mm in thickness.
In our informational guide below we will take you through the rules for picking screws for pallets, other tools you might need for making pallets as well as some DIY ideas for making pallet furniture!
The Essential Factors To Consider When Picking Screws For Pallets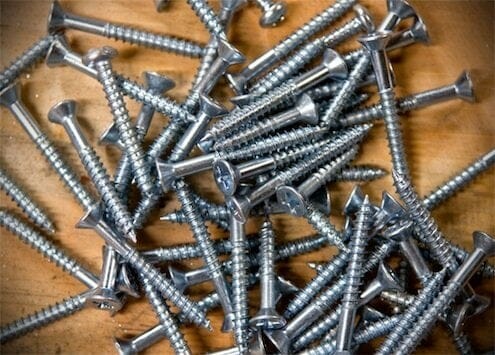 Using the right screws when making pallet furniture is essential since they are what holds your whole furniture together, sticking with cheap screws could cause early damage to your pallets and will not hold their durability. 
Stick With a 1.5 Rule 
No matter whether you are using pallet wood or normal wood, the 1.5 rule for common screws is essential if you want to choose the right size of screws for your project. This is because if your sizes of screws are too small in comparison to your wood they will break. 
For example, if you are using pallet wood which has a thickness of 23mm then you want to use a screw head size of 34.5mm or 35mm, this will give you maximum strength. Avoid using thicker screws than 1.5x since they could potentially crack your pallet project.
Consider Outdoor Or Indoor 
Another rule or factor to consider when choosing screws for your pallet project is if your pallet project will be indoors or outdoors. 
For indoor wooden pallets, you can use Bichromate screws since they will not rust, but if your pallet project is outside then you will need to use stainless steel screws as they do not rust and are weather resistant.
Predrill 
Predrilling your wood pallets is essential if you want to avoid splitting your pallet project, this is especially important if your will be screwing near the edge of a building pallet for stability.
The Screw Brand 
Although the screw brand you choose for screwing your pallet planks does not always equal a high-quality screw, you should avoid choosing "low-end" screws for your wood pallets, this is because they will snap easily and often have a screw head that gets damaged easily. 
Other Tools Needed For Making Pallet Furniture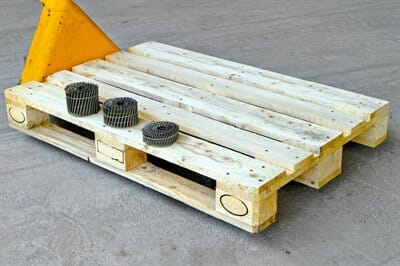 Screws are not the only tool you need to consider for your pallet project, if you planning to make wood pallets furniture DIY you should also consider some other important tools which we will list below. 
Jigsaw/Saw 
For a pallet project, you will need a cutting tool of some sort, this could be a jigsaw or a standard hand saw, higher power saws will get the job done faster however if your budget can afford it. If you have long lengths of pallet wood then you want to ensure that you are using a table saw to cut the pallet planks to narrower sizes. 
Reciprocating saws are excellent to use if you need to disassemble pallets.
Hammer 
A hammer is a must-have pallet tool for taking apart wood, never miss this out of your pallet crafter kit, whether you need to hammer nails in or dismantle pallet wood.
Tape Measure 
Tape measures are important for any kind of DIY, especially when building pallet furniture's, the ruler of your tape measure can also help you to check for square assembly, they can also be used as a T-square.  
Screwdriver 
Screwdrivers will save you a lot of time when screwing stainless steel screws into your pallets, consider whether you need a flat slotted screwdriver as well for the kinds of wood screws you are using.
Drills 
Drills might not be used as much in making DIY pallet furniture but are important for making pilot holes to stop old pallets from splitting from thicker screws. 
Using drills can also be great for adding decor to your pallets.
Safety Equipment 
Safety gloves and safety goggles are very important when working with DIY pallet furniture, you never know when debris can fly up and get into your eye or splinters can get under your skin when working with older pallets.
Sander 
Sanders are one of the most important tools you can have on hand for making pallet furniture, this is because wooden pallets often have rough edges and splinters, sanders are further important for painting since they get rid of the uneven surfaces.
DIY Pallet Furniture Ideas 
If you've got the right screws on hand and all the tools you need, you might be curious as to what DIY pallet furniture you can make.
We've listed a few DIY pallet furniture ideas for inspiration below. 
A vertical planter – Vertical planters are one of the easiest projects to make as a beginner DIY, all you need is a small-sized pallet and a piece of slat with some nails, use it to grow veggies or to show off your flowers! 
Outside bar – For an outside bar you will need five pallets with four of them fastened with a cross member, fix the last on the bottom section and voila! 
Outdoor swing – Use a small pallet and split it into two pieces then faster together to make a sturdy seat, use ropes to hang the seat.
A pallet table – Put three layers of pallets on top of each other and fast each layer with your screws.
Small corner sofa – Pallets are excellent to use for a corner sofa, follow the same steps as building your swing for a quick and easy design.
Platform pallet bed – Pallets beds are a little more advanced to make than other beginner DIY projects but work great if you have 3/4 pallets to use up which can be joined together to make a cool platform pallet bed!
Pallet nightstand – One way to use up some extra pallets is by screwing them together as nightstands, you will only need one or two pallets for this plus some stainless steel screws.
Frequently Asked Questions About Screws & Pallet Furniture 
Should I use a stainless steel screw for pallet furniture? 
Stainless steel screws are the best for outdoor pallet furniture since they don't rust and are very durable, for inside pallet furniture the kind of screw you use shouldn't matter too much since it will not be exposed to the elements, it's important to choose the right sized screw, however.
Do the types of heads matter on screws? 
Yes, the screw head size does matter since it determines the thickness of the screw.
Why are "low-end" screws not good for pallets? 
Low end screws break easily in tough pallets, they will likely rust sooner too, avoid screws out of large multipacks.
How can I stop my pallets from splitting?
To stop your pallets from splitting when you put your screws in you should drill pilot holes, to begin with especially if you are screwing on pallet edges.
Last Words 
Overall, you should always use high-quality screws in pallet furniture, make sure they are 1.5x the size of your wood to ensure they are not too thick or thin. If you are building pallet furniture makes sure you have a saw, hammer and safety equipment on hand too.
Pallets can split easily, so always drill pilot holes before screwing and avoid using screws that are too thick for your material.